Macroinvertebrate Data BOKU
最新版本 由 BioFresh 發佈於 Sep 8, 2017 BioFresh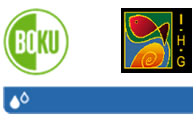 Point data of EPT species throughout Austria including environmental information & geographical coordinates; source: diploma thesis data from the database of the working group "Benthic Ecology & Ecological Status Assessment", University of Natural Resources and Life Sciences, Vienna; the dataset contains 1210 points of occurrence.
For additional metadata see: http://data.freshwaterbiodiversity.eu/metadb/bf_mdb_view.php?entryID=BF37
Data Records
The data in this 出現紀錄 resource has been published as a Darwin Core Archive (DwC-A), which is a standardized format for sharing biodiversity data as a set of one or more data tables. The core data table contains 1,167 records.
This IPT archives the data and thus serves as the data repository. The data and resource metadata are available for download in the downloads section. The versions table lists other versions of the resource that have been made publicly available and allows tracking changes made to the resource over time.
版本
The table below shows only published versions of the resource that are publicly accessible.
如何引用
研究者應依照以下指示引用此資源。:
Working Group Benthic Ecology & Ecological Quality Assessment, IHG-BOKU Vienna (publisher) (2013): Macroinvertebrate Data BOKU. Published on http://data.freshwaterbiodiversity.eu, accessed on [date]. Data from several diploma/phD thesis; for exact citation please contact: astrid.schmidt-kloiber@boku.ac.at
關鍵字
benthic macroinvertebrates; EPT; rivers; Austria; rivers; Biosphere; Biological Classification; Biota; Environment; Inland Waters; Occurrence
聯絡資訊
資源建立者:
可回覆此資源相關問題者:
元數據填寫者:
與此資源的相關者:
地理涵蓋範圍
National coverage
| | |
| --- | --- |
| 界定座標範圍 | 緯度南界 經度西界 [46.26, 9.2], 緯度北界 經度東界 [49.12, 17.34] |
分類群涵蓋範圍
This dataset covers the macro invertebrate groups Ephemeroptera, Plecoptera, Trichoptera (EPT).
時間涵蓋範圍
| | |
| --- | --- |
| 起始日期 / 結束日期 | 1991-01-01 / 2009-01-01 |
取樣方法
specification of method(s) used for sampling and sorting: Sampling: Multi Habitat Sampling (MHS; Moog 2004); Airlift (Pehofer 1998), Surber Sampler, qualitative samples; Sample processing (sorting) according to Aqem Manual, 2002 (Ofenböck et al. 2010); sample type: Multi Habitat Sampling, partly habitat specific samples (e.g. microhabitat: mesolithal) specific sample location: various (e.g. transect, microhabitat); other important sample related informations: Most of the species were recorded in quantitative or qualitative manner, but only presence/absence data were submitted to BioFresh.
| | |
| --- | --- |
| 研究範圍 | covered timeframe: year from 1991 to 2009; historical data: no; palaeo data: no; season: spring, summer, autumn, winter; time series data: no; sample specification: presence/absence; replicate samples: no |
方法步驟描述:
commonly used series of methods steps regarding macro invertebrates (e.g. sampling, identification, data management)
額外的元數據
Data from several diploma/phD thesis; for exact citation please contact: astrid.schmidt-kloiber@boku.ac.at