Macroinvertebrate Data BOKU
Última versión Publicado por BioFresh en Sep 8, 2017 BioFresh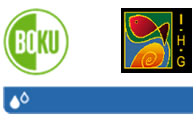 Point data of EPT species throughout Austria including environmental information & geographical coordinates; source: diploma thesis data from the database of the working group "Benthic Ecology & Ecological Status Assessment", University of Natural Resources and Life Sciences, Vienna; the dataset contains 1210 points of occurrence.
For additional metadata see: http://data.freshwaterbiodiversity.eu/metadb/bf_mdb_view.php?entryID=BF37
Registros
Los datos en este registros biológicos recurso han sido publicados como Archivo Darwin Core(DwC-A), el cual es un formato estándar para compartir datos de biodiversidad como un conjunto de una o más tablas de datos. La tabla de datos del core contiene 1,167 registros.
Este IPT archiva los datos, sirviendo así como repositorio de datos. Los datos y metadatos están disponibles para descargar en la sección de descargas. La tabla de versiones muestra otras versiones del recurso que se han hecho accesibles al público y permite el seguimiento de los cambios hechos al recurso en el tiempo.
Descargas
Descargue la última versión de los datos como un Archivo Darwin Core (DwC-A) o los metadatos como EML o RTF:
| | |
| --- | --- |
| Datos como un archivo DwC-A | descargar 1,167 registros en Alemán (36 KB) - Frecuencia de actualización: desconocido |
| Metadatos como un archivo EML | descargar en Inglés (9 KB) |
| Metadatos como un archivo RTF | descargar en Inglés (8 KB) |
Versiones
La siguiente tabla muestra sólo las versiones publicadas del recurso que son de acceso público.
¿Cómo referenciar?
Los usuarios deben citar este trabajo de la siguiente manera:
Working Group Benthic Ecology & Ecological Quality Assessment, IHG-BOKU Vienna (publisher) (2013): Macroinvertebrate Data BOKU. Published on http://data.freshwaterbiodiversity.eu, accessed on [date]. Data from several diploma/phD thesis; for exact citation please contact: astrid.schmidt-kloiber@boku.ac.at
Palabras Clave
benthic macroinvertebrates; EPT; rivers; Austria; rivers; Biosphere; Biological Classification; Biota; Environment; Inland Waters; Occurrence
Contactos
¿Quién creó el recurso?:
¿Quién puede resolver dudas acerca del recurso?:
¿Quién documentó los metadatos?:
¿Quién más está asociado con el recurso?:
Cobertura Geográfica
National coverage
| | |
| --- | --- |
| Coordenadas límite | Latitud Mínima Longitud Mínima [46.26, 9.2], Latitud Máxima Longitud Máxima [49.12, 17.34] |
Cobertura Taxonómica
This dataset covers the macro invertebrate groups Ephemeroptera, Plecoptera, Trichoptera (EPT).
Cobertura Temporal
| | |
| --- | --- |
| Fecha Inicial / Fecha Final | 1991-01-01 / 2009-01-01 |
Métodos de Muestreo
specification of method(s) used for sampling and sorting: Sampling: Multi Habitat Sampling (MHS; Moog 2004); Airlift (Pehofer 1998), Surber Sampler, qualitative samples; Sample processing (sorting) according to Aqem Manual, 2002 (Ofenböck et al. 2010); sample type: Multi Habitat Sampling, partly habitat specific samples (e.g. microhabitat: mesolithal) specific sample location: various (e.g. transect, microhabitat); other important sample related informations: Most of the species were recorded in quantitative or qualitative manner, but only presence/absence data were submitted to BioFresh.
| | |
| --- | --- |
| Área de Estudio | covered timeframe: year from 1991 to 2009; historical data: no; palaeo data: no; season: spring, summer, autumn, winter; time series data: no; sample specification: presence/absence; replicate samples: no |
Descripción de la metodología paso a paso:
commonly used series of methods steps regarding macro invertebrates (e.g. sampling, identification, data management)
Metadatos Adicionales
Data from several diploma/phD thesis; for exact citation please contact: astrid.schmidt-kloiber@boku.ac.at