Macroinvertebrate Data BOKU
Versão mais recente publicado por BioFresh em Sep 8, 2017 BioFresh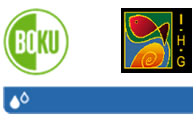 Point data of EPT species throughout Austria including environmental information & geographical coordinates; source: diploma thesis data from the database of the working group "Benthic Ecology & Ecological Status Assessment", University of Natural Resources and Life Sciences, Vienna; the dataset contains 1210 points of occurrence.
For additional metadata see: http://data.freshwaterbiodiversity.eu/metadb/bf_mdb_view.php?entryID=BF37
Registros de Dados
Os dados deste recurso de ocorrência foram publicados como um Darwin Core Archive (DwC-A), que é o formato padronizado para compartilhamento de dados de biodiversidade como um conjunto de uma ou mais tabelas de dados. A tabela de dados do núcleo contém 1,167 registros.
Este IPT armazena os dados e, portanto, serve como um repositório de dados. Os dados e os metadados do recurso estão disponíveis para download no seção de downloads. A tabela de versões lista outras versões do recurso que foram disponibilizadas ao público e permite o rastreamento das alterações realizadas no recurso ao longo do tempo.
Downloads
Baixe a última versão do recurso de dados, como um Darwin Core Archive (DwC-A) ou recurso de metadados, como EML ou RTF:
| | |
| --- | --- |
| Dados como um arquivo DwC-A | download 1,167 registros em German (36 KB) - Frequência de atualização: desconhecido |
| Metadados como um arquivo EML | download em English (9 KB) |
| Metadados como um arquivo RTF | download em English (8 KB) |
Versões
A tabela abaixo mostra apenas versões de recursos que são publicamente acessíveis.
Como citar
Pesquisadores deveriam citar esta obra da seguinte maneira:
Working Group Benthic Ecology & Ecological Quality Assessment, IHG-BOKU Vienna (publisher) (2013): Macroinvertebrate Data BOKU. Published on http://data.freshwaterbiodiversity.eu, accessed on [date]. Data from several diploma/phD thesis; for exact citation please contact: astrid.schmidt-kloiber@boku.ac.at
Palavras-chave
benthic macroinvertebrates; EPT; rivers; Austria; rivers; Biosphere; Biological Classification; Biota; Environment; Inland Waters; Occurrence
Contatos
Quem criou esse recurso:
Quem pode responder a perguntas sobre o recurso:
Quem preencher os metadados:
Quem mais foi associado com o recurso:
Cobertura Geográfica
National coverage
| | |
| --- | --- |
| Coordenadas delimitadoras | Sul Oeste [46.26, 9.2], Norte Leste [49.12, 17.34] |
Cobertura Taxonômica
This dataset covers the macro invertebrate groups Ephemeroptera, Plecoptera, Trichoptera (EPT).
Cobertura Temporal
| | |
| --- | --- |
| Data Inicial / Data final | 1991-01-01 / 2009-01-01 |
Métodos de Amostragem
specification of method(s) used for sampling and sorting: Sampling: Multi Habitat Sampling (MHS; Moog 2004); Airlift (Pehofer 1998), Surber Sampler, qualitative samples; Sample processing (sorting) according to Aqem Manual, 2002 (Ofenböck et al. 2010); sample type: Multi Habitat Sampling, partly habitat specific samples (e.g. microhabitat: mesolithal) specific sample location: various (e.g. transect, microhabitat); other important sample related informations: Most of the species were recorded in quantitative or qualitative manner, but only presence/absence data were submitted to BioFresh.
| | |
| --- | --- |
| Área de Estudo | covered timeframe: year from 1991 to 2009; historical data: no; palaeo data: no; season: spring, summer, autumn, winter; time series data: no; sample specification: presence/absence; replicate samples: no |
Descrição dos passos do método:
commonly used series of methods steps regarding macro invertebrates (e.g. sampling, identification, data management)
Metadados Adicionais
Data from several diploma/phD thesis; for exact citation please contact: astrid.schmidt-kloiber@boku.ac.at