Macroinvertebrate Data BOKU
Dernière version Publié par BioFresh le Sep 8, 2017 BioFresh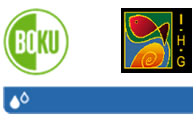 Point data of EPT species throughout Austria including environmental information & geographical coordinates; source: diploma thesis data from the database of the working group "Benthic Ecology & Ecological Status Assessment", University of Natural Resources and Life Sciences, Vienna; the dataset contains 1210 points of occurrence.
For additional metadata see: http://data.freshwaterbiodiversity.eu/metadb/bf_mdb_view.php?entryID=BF37
Enregistrements de données
Les données de cette ressource occurrence ont été publiées sous forme d'une Archive Darwin Core (Darwin Core Archive ou DwC-A), le format standard pour partager des données de biodiversité en tant qu'ensemble d'un ou plusieurs tableurs de données. Le tableur de données du cœur de standard (core) contient 1,167 enregistrements.
Cet IPT archive les données et sert donc de dépôt de données. Les données et métadonnées des ressources sont disponibles au téléchargement dans la section téléchargements. Le tableau des versions liste les autres versions de chaque ressource rendues disponibles de façon publique et permet de tracer les modifications apportées à la ressource au fil du temps.
Téléchargements
Téléchargez la dernière version de la ressource en tant qu'Archive Darwin Core (DwC-A), ou les métadonnées de la ressource au format EML ou RTF :
| | |
| --- | --- |
| Données sous forme de fichier DwC-A (zip) | télécharger 1,167 enregistrements dans Allemand (36 KB) - Fréquence de mise à jour: inconnue |
| Métadonnées sous forme de fichier EML | télécharger dans Anglais (9 KB) |
| Métadonnées sous forme de fichier RTF | télécharger dans Anglais (8 KB) |
Versions
Le tableau ci-dessous n'affiche que les versions publiées de la ressource accessibles publiquement.
Comment citer
Les chercheurs doivent citer cette ressource comme suit:
Working Group Benthic Ecology & Ecological Quality Assessment, IHG-BOKU Vienna (publisher) (2013): Macroinvertebrate Data BOKU. Published on http://data.freshwaterbiodiversity.eu, accessed on [date]. Data from several diploma/phD thesis; for exact citation please contact: astrid.schmidt-kloiber@boku.ac.at
Mots-clé
benthic macroinvertebrates; EPT; rivers; Austria; rivers; Biosphere; Biological Classification; Biota; Environment; Inland Waters; Occurrence
Contacts
Personne ayant créé cette ressource:
Personne pouvant répondre aux questions sur la ressource:
Personne ayant renseigné les métadonnées:
Autres personnes associées à la ressource:
Couverture géographique
National coverage
| | |
| --- | --- |
| Enveloppe géographique | Sud Ouest [46.26, 9.2], Nord Est [49.12, 17.34] |
Couverture taxonomique
This dataset covers the macro invertebrate groups Ephemeroptera, Plecoptera, Trichoptera (EPT).
Couverture temporelle
| | |
| --- | --- |
| Date de début / Date de fin | 1991-01-01 / 2009-01-01 |
Méthodes d'échantillonnage
specification of method(s) used for sampling and sorting: Sampling: Multi Habitat Sampling (MHS; Moog 2004); Airlift (Pehofer 1998), Surber Sampler, qualitative samples; Sample processing (sorting) according to Aqem Manual, 2002 (Ofenböck et al. 2010); sample type: Multi Habitat Sampling, partly habitat specific samples (e.g. microhabitat: mesolithal) specific sample location: various (e.g. transect, microhabitat); other important sample related informations: Most of the species were recorded in quantitative or qualitative manner, but only presence/absence data were submitted to BioFresh.
| | |
| --- | --- |
| Etendue de l'étude | covered timeframe: year from 1991 to 2009; historical data: no; palaeo data: no; season: spring, summer, autumn, winter; time series data: no; sample specification: presence/absence; replicate samples: no |
Description des étapes de la méthode:
commonly used series of methods steps regarding macro invertebrates (e.g. sampling, identification, data management)
Métadonnées additionnelles
Data from several diploma/phD thesis; for exact citation please contact: astrid.schmidt-kloiber@boku.ac.at